This is what I used to look like when I was 17 -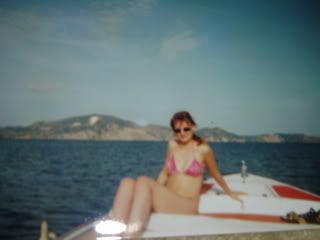 Please ignore the mad hair (I was in the middle of the windy sea) and the even madder sunglasses, and instead pay particular attention to the slim shoulders and not-fat thighs. It may be a poor quality photo, but these two particular last points are fairly clear.
The point? I was once thin. Further point? I will be thin again! And hopefully by the time I go away - i.e. in 7 weeks time.
The tennis I have started playing again will hopefully contribute some way towards my target (of not-fat thighs). But I am aware that piss-about pretendy tennis will not achieve my target alone. So, along with taking the momentous step of refusing a Galaxy bar today (I
never
refuse a Galaxy bar), today I also started using this -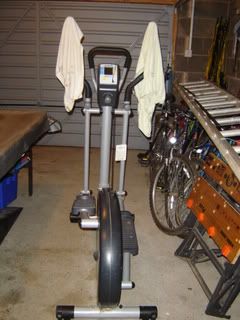 Shown in its usual state as a dog-towel holder is my dad's cross-trainer. You can tell how much it gets used. After waiting for my tea to go down, as you always should before pursuing exercise, while watching Emmerdale and Eastenders, I climbed aboard said cross-trainer and cross-trained for 45 minutes. So as not to get too bored while staring at the garage door in front of me, I listened to music on my MP3 player (my student budget won't quite stretch to a
pink mini iPod
) and also used it as an exercise
aid
, with varying my cross-training speed according to the beat of the song. Tonight I managed to get through 11 songs, covering countless kilometres (probably - I forgot to look) and over 300 calories! Yes I know thats only about one chocolate bar, but its a bloody good start!
Not to copy any particular
bloggers
, no not a
one
, below you can find the first 11 songs on my MP3 player, as cross-trained to tonight.
Everything I do (I do it for you) by Bryan Adams - A good warm up song as the beat was very slow.
Layla by Derek and the Dominoes - This one was quite fast - averaged about 63 steps per minute.
Go Your Own Way by Fleetwood Mac - Bloody hell! I nearly killed myself with this one! Averaged 78 per minute!
Dreams by Fleetwood Mac - Quite fast but not heart attack inducing.
Seven Wonders by Fleetwood Mac - See above.
Club Foot by Kasabian - It was very hard to pick out a beat with this one. I think it was a very slow one, but I wasn't sure so I just went very fast again after the last leisurely ones.
Dakota by Sterephonics - Another fast one! 71 per minute!
Maybe Tomorrow by Stereophonics - I flicked past this one. It bores me now - I really need to delete that song actually.
Scar Tissue by Red Hot Chili Peppers - I slowed down a bit to this one - didn't want my favourite song ever to be associated with pain in my mind.
Sara by Fleetwood Mac - Oh I really like this song. A nice steady 66 per minute, which burned, but not too much. A very long song. I quite got in the zone with it actually!
Rhiannon by Fleetwood Mac - Oh. I just remembered that by this point I was bored so stopped 10 seconds into the song. So I only actually go through 10 songs. Oh well.
I would just like to add that the cross-trainer was set at difficulty rating (or something) number 7, and thats from a choice of 1 to 10, 10 being near impossible at the moment.
So! Hopefully, along with the fact that I am now drinking considerably less lager now that I'm away from the student 'scene', I may once again soon have not-fat thighs!
In 7 weeks.
Hmm.