Oh my God I cannot believe that London has been hit by terrorists. Its the sort of thing that, even though we now live in the world that we do, you never
really
think will happen so close to home. Its always something that happens somewhere else. I know that being in North Wales I probably couldn't be any further away from London while still being in the UK if I tried, except if I was in the Outer Hebrides perhaps, but its still the UK, and its very, very scary.
So, my 'Look where I was this weekend - Edinburgh!' post will be a little more sedate than I intended it to be, but I shall post it all the same.
So, Friday morning I packed up my car and made my way up to Leeds to pick up Elaine. I got stuck in horrendous traffic and the poor lady was sat around waiting for me for about an hour. Over a McDonalds we planned our route up to Edinburgh for the G8 rally and march (a
wedding
if anyone from work asks, ok?).
We thought it would only take a few hours. We left at about 3pm - and finally arrived at the house we were staying at at 9pm. Hmm. At least the scenery was nice -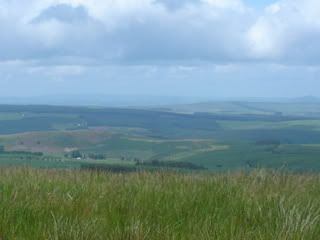 Although who knew that Northumberland was so
big
? It went on forever!
There were
so many
people there, loads of studenty type people, but loads of old people and young families, even with babies and toddlers, loads of normal-looking people as well as hippies and grebos.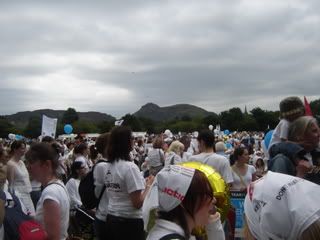 We went for the second march which started at 1pm - and didn't get going until half three cos there were so many people. My feet were bloody killing before we even started marching. Once we did start it was so much fun. We tried to keep pace with a bag-pipe playing band because there was loads of atmosphere around them, and also because all the tv cameras kept following them. Totally shameless.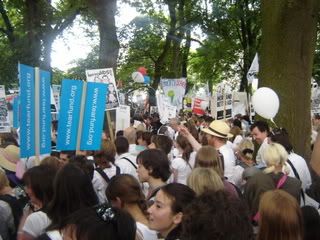 By the time we got back to the Meadows we were shattered, so we had a tuna baguette, some donuts and a little lie down on the grass while watching these things being raised -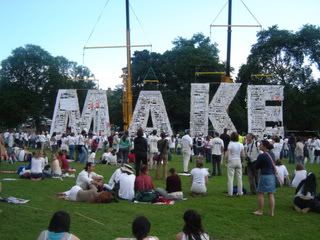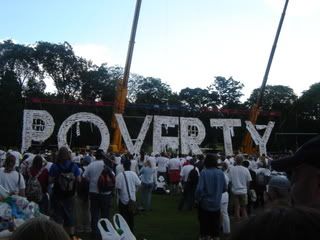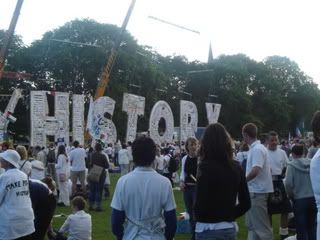 When we got back to the house we managed to keep our exhausted eyes open to watch some Live 8 before heading off out to perhaps the coolest pub I have ever been to, called the Jekyll and Hyde and which was themed like a haunted house. The toilets were disguised as book cases and everytime a door opened they made scary noises!
We ended up at the Forest, a cool pub full of hippies, no, actually
overflowing
with hippies cos there were loads of people out on the street outside dancing to the beat of lampposts that were being banged against. We drank organic beer and nearly threw up the seaweed beer called 'Kelpie'. Possibly the foulest thing I have ever tasted.
Sunday morning we ended up driving for 7 hours, I think I may have been caught on a speed camera (only 6 miles over the limit!) and nearly ran out of petrol on the Al, and was saved only by an emergency stop-off at Wetherby. I got home at 5.45pm, had some tea and a 10 minutes sleep (literally) and then was in work for 7pm. I have never been so physically exhausted.
See? Thats the face of nackerd-ness.
And that, I believe, is how my weekend of saving the world (or something) went!
In other news, I went to see War of the Worlds on Monday and I can confirm it is the best film I have ever seen ever. Probably. And Tim has finally persuaded me to watch the Rocky films with him (after 3 years of begging itfinally came down to anything for a quiet life) and I can also confirm that it is true - the Rocky films are about so much more than boxing (thank God) and are really quite fabulous! I so should have watched them sooner, like 3 years ago, perhaps.
That is all.